Book a Roll Off Dumpster Rental in Dickson from Dumpsters On Demand!
Local contractors, businesses, and homeowners know that they can book a roll off dumpster rental in Dickson from Dumpsters On Demand conveniently for any project, large or small. We provide timely, reliable dumpster service and have earned a positive reputation as the top choice for hassle-free waste disposal. We work hard to provide durable equipment and the best service to handle any waste management project, whether you're planning a home cleanout or managing a construction site cleanup.

We frequently provide our dumpster rental and junk removal services to Dickson, Tennessee, and surrounding areas in Dickson County. We're proud to have built long-lasting relationships with our customers by supplying dependable options for a roll off dumpster rental in Dickson at affordable pricing. We have no doubt that we can help you manage the mess in a hassle-free manner with our top-quality containers, no matter the project goal or task at hand.

You can reserve a roll off dumpster rental in Dickson at any time on our website or by contacting our friendly team at (615) 971-3668. Our online booking process is user-friendly and straightforward, designed with convenience in mind. Simply click the "Dumpster Rental" tab to browse available dumpster options, then click the "Schedule Now" button to schedule a delivery with a few clicks. Thanks to our exceptional team and streamlined online reservation tool, booking the best roll off dumpsters Dickson TN has to offer is a stress-free, straightforward experience. If you have any questions, don't hesitate to reach out today!

Need help choosing the right service? Give us a Call: (615) 971-3668
We Take Just About Everything
Some examples of the junk we haul away include:
Refrigerator Disposal

Garbage Removal

Mattress Disposal

Foreclosure Clean Outs
Construction Waste Removal

Yard Waste Removal

Trash Removal

Appliance Removal
Television Disposal & Recycling

Furniture Removal

E-Waste Disposal

Hot Tub Disposal
Use the Dumpster Rental Dickson Tennessee Trusts Most to Complete a Variety of Projects
There are countless reasons to reserve the dumpster rental Dickson Tennessee residents trust to complete various commercial and residential projects. The most common projects that our waste dumpsters are used for include residential repairs, remodeling jobs, renovations, and general home cleanouts, as well as new construction, roofing replacements, and demolition jobs. Whatever your waste disposal needs are, our friendly and resourceful team is here to help you get the job done quickly and safely.

We'd be happy to recommend the perfect Dickson TN dumpster rental to help you achieve your waste removal goals in a timely and stress-free manner. We partner with Southern Services C&D Landfill to ensure all waste is properly disposed of according to city, county, and state regulations. We aim to keep our communities clean while maintaining sustainable, environmentally-safe practices. Get in touch with our team today to reserve the #1 dumpster rental Dickson Tennessee residents and contractors use year-round for extensive waste management projects. We're here to make sure that your upcoming repair, home improvement, or other project is a breeze with convenient delivery and reliable customer service.

Roll Off Dumpster Rental Dickson TN Contractors Depend On to Clear the Waste
Choose the roll off dumpster rental Dickson TN construction companies and local contractors depend on for efficient site clean-ups, development projects, and demolition debris removal. Our durable 15-yard roll-off containers can handle every project scope, such as ongoing housing construction or heavy-duty commercial demolitions, in a safe and convenient manner.

We offer the construction dumpster rental Dickson TN contractors trust to help you manage waste and debris at your construction site, whether you require a dumpster for a short-term demolition, a long-term renovation, or a housing development project. Over the years, we have worked closely with local contractors to supply them with reliable roll-off bins to keep their job sites safe, secure, and streamlined. Our construction clients use our industry-grade bins to securely contain and dispose of lumber, shingles, plastic, piping, tile, and general construction waste. Book a same-day dumpster on our website effortlessly, or give us a call to schedule a delivery today.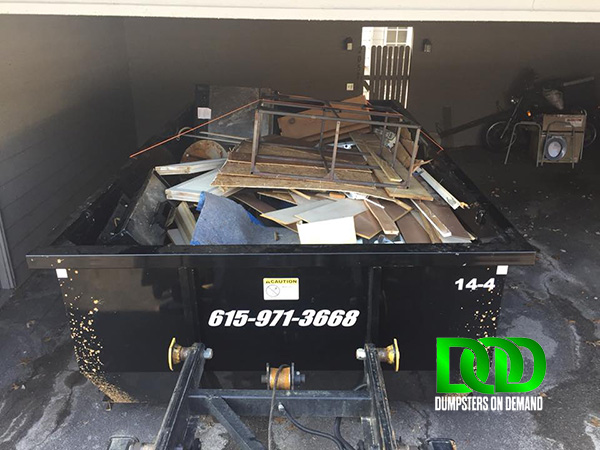 Heavy-Duty Roll Off Dumpster Dickson Roofers Rely On
Pick the roll off dumpster Dickson roofing companies depend on for professional roofing installations and repairs. Our heavy-duty roll-off containers will help you contain potentially dangerous and bulky waste and keep your worksite clean without breaking the bank. Whether you're managing a large-scale commercial roof replacement or making minor repairs on a rental property, we're confident we have the equipment that will make your project a walk in the park.

Trust our industry-grade roll-off bin experts to help you contain a range of heavy roofing debris, including nails, shingles, plastic, wood, tiles, flashing, trimming, packaging, and other waste. We're committed to working with you to ensure that your project is a success, regardless of its scale, scope, or timeline. Reserve online today or contact our team for any further information.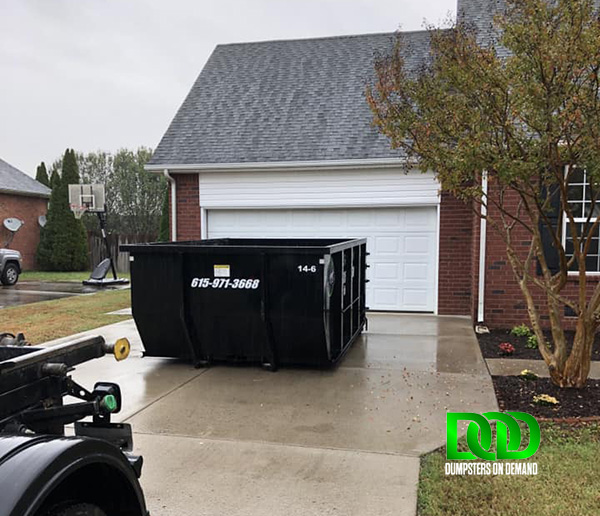 Rent a Roll Off Dumpster Dickson Residents Use for Yard Waste
You can easily rent a roll off dumpster Dickson residents depend on for hassle-free yard waste disposal through our website or by contacting our team directly to schedule a delivery. Dumpsters On Demand is the trusted source for durable, affordable, and on-time dumpsters. Whether you're clearing debris following a storm or simply sprucing up your landscaping, rent one of our bins today and increase your curb appeal easily.

Our dumpster rental options in Dickson TN provide residents with a convenient way to dispose of brush, branches, grass, leaves, trimmings, and general yard debris quickly and in a reasonably-priced manner. Clear off your cluttered patio, finish your seasonal landscaping, or tear up unwanted gardens without overfilling your traditional garbage bins. Load at your own pace and give us a call when you're ready for us to haul away your waste!

Reliable Residential Roll Off Dumpsters in Dickson TN
Choose the roll off dumpsters in Dickson TN that homeowners use to dispose of waste from a range of residential projects year-round! Whether you're planning a major home cleanout or preparing for a kitchen makeover, we have no doubt that you'll be able to throw out the mess quickly and conveniently using our durable roll-off containers. We work with homeowners to help them manage waste following short- and long-term residential repairs, renovations, and cleanouts throughout Dickson.

Get a residential dumpster rental Dickson TN homeowners trust and manage waste from your next driveway demolition, attic cleanout, roofing repair, downsizing preparation, and other endeavors hassle-free. Book a roll-off container online or give us a call at (615) 971-3668 to get started today!
Roll Off Dumpster Rental Dickson Businesses Can Trust
Dumpsters On Demand is proud to supply the roll off dumpster rental Dickson business owners and property managers use to manage garbage and keep their establishments clean. Hotels, restaurants, storage facilities, banks, retirement homes, and other commercial clients count on our commercial dumpster services Dickson TN can't do without for one-time and ongoing garbage disposal needs.

As a locally owned company that understands the garbage management needs of businesses, we work hard to provide the best rates, timely delivery, and friendly customer service to all our clients. Rent a dumpster in Dickson conveniently online to support your long-term or temporary commercial waste disposal needs for a foreclosure cleanout, office park remodel, or other waste disposal efforts, or contact our team to schedule a one-on-one delivery.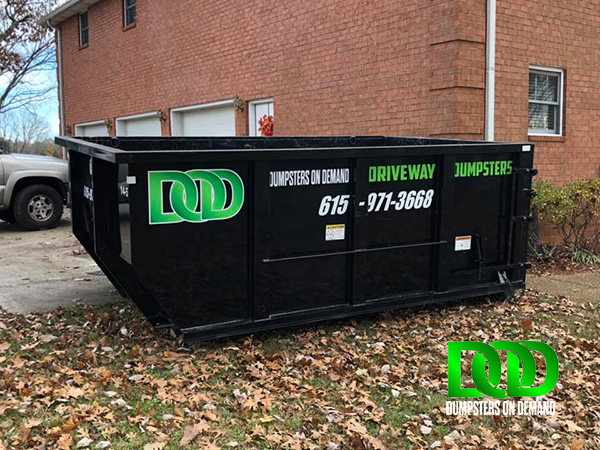 Why You Should Choose Us for the #1 Dumpster Rental Dickson TN Has to Offer
We're the #1 choice for a dumpster rental Dickson TN homeowners, residents, construction companies, roofers, and commercial clients can rely on to complete different projects according to their specific timeframes and budgets. Our amazing team works hard to provide exceptional customer service, flexible scheduling options, and on-time delivery, to prove that we're the best remove disposal & dumpster co. in Dickson TN for short-term and ongoing projects.

We continue to offer roll off dumpsters Dickson can depend on for residential and commercial waste management requirements by sourcing durable, easy-to-load, and driveway-friendly equipment from the best roll off containers manufacturers Dickson TN has to offer. We're confident that our heavy-duty 15-yard roll-off bins will meet all your waste disposal requirements while providing the best local dumpster rates Dickson TN can provide.

Our customers count on us to supply the dumpster rental Dickson TN uses to complete waste disposal projects quickly and efficiently. Learn more about our dumpster choices and book a roll off bin on our website with a few easy clicks. Reach out to us on our contact page or call us at (615) 971-3668 for any inquiries about our Dickson dumpster rentals Dickson, TN.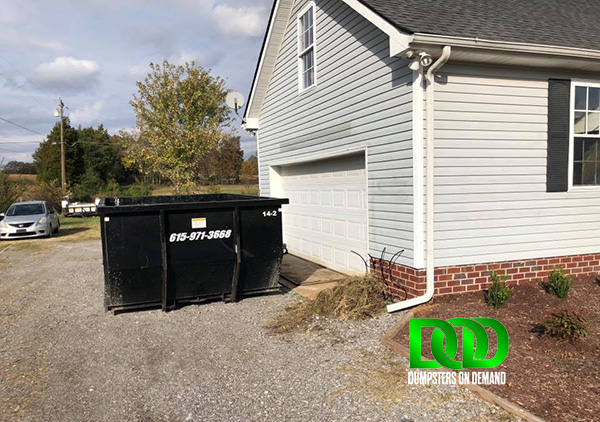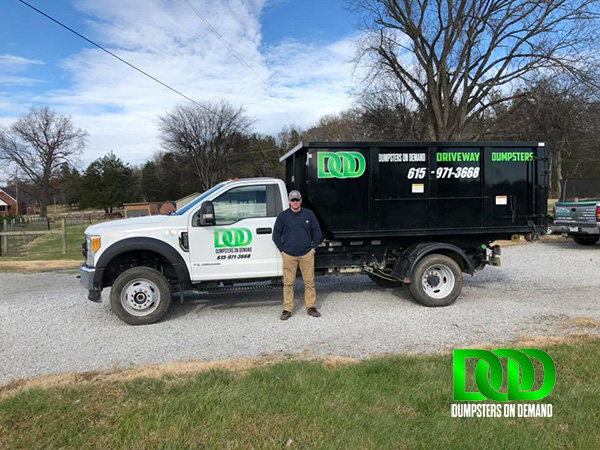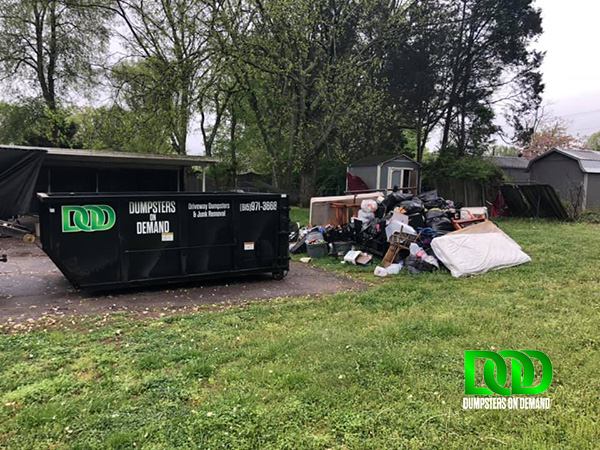 How to Rent a Dumpster Dickson Residents and Businesses Count On
You can easily rent a dumpster Dickson residents, contractors, property managers, and businesses rely on year-round through our convenient online booking tool or by calling our team directly at (615) 971-3668 to schedule a delivery. We're committed to providing you with top-notch service, right from your first contact with us up until we haul your trash away in our high-quality bins.

When you're ready to get started on your project, follow the steps below to rent a dumpster Dickson residents and businesses trust online:

1) Click the "Dumpster Rental" tab on our website's main menu to browse our Dickson roll off dumpster rentals and flexible scheduling terms.
2) Select a dumpster rental period that suits your waste disposal requirements and click the green "Schedule Now" tab.
3) Select the service type then click "Continue."
4) Confirm your preferred delivery date then complete your contact, delivery, and billing information.
5) Confirm your details then use any major credit card to submit the required deposit through our secure payment system and checkout.

Once you've submitted the payment for a roll-off trash bin Dickson relies on most, we'll send you a confirmation email showing a digital copy of your receipt. A team member will also contact you to confirm your preferred drop-off window before your scheduled drop-off date. Contact our team today for additional information on dumpster trash in Dickson TN for rent.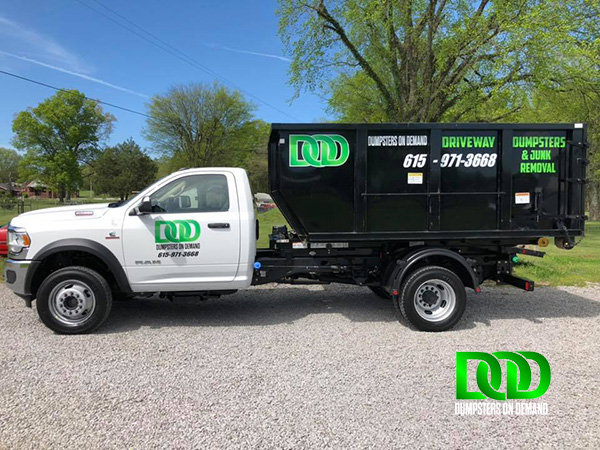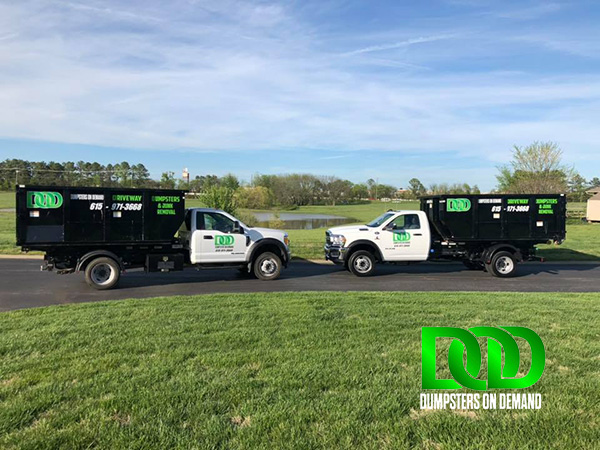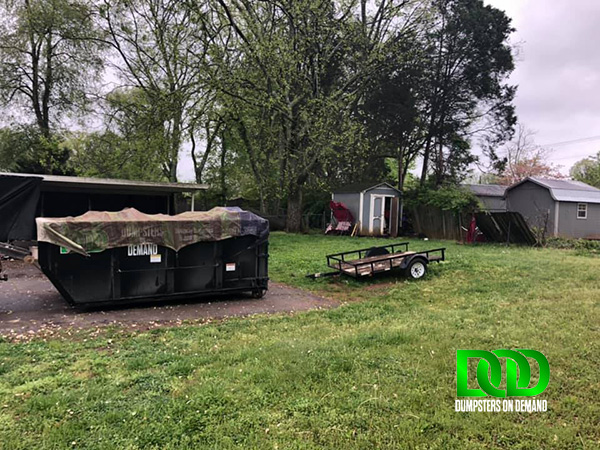 Rent a Dumpster Dickson TN Uses for Projects of All Sizes
When looking to rent a dumpster Dickson TN customers use for all-size projects, Dumpsters On Demand is the best choice. We offer flexible dumpster rental scheduling, an easy online reservation process, and the most affordable dumpster rental prices Dickson TN has to offer for residential, commercial, and construction waste management. We do our best to deliver the best value bin for the job with each and every rental.

Our 15-yard Dickson TN dumpster measures 12' long by 8' wide by 4.5' high and begins at $349 for a 1-day rental with two tons of waste disposal included in the base price. You can opt for a 1-day, 3-day, or 7-day rental depending on your specific project goals. This size is an ideal choice for a wide range of residential demands, including flooring removal, roofing repairs, single-room renovations, garage cleaning, construction site clean-ups, and more. Contact our team for any additional information about booking the best dumpster service Dickson TN has to offer.

Delivering a Dumpster Rental in Dickson TN and the Surrounding Areas
Dumpsters On Demand is proud to deliver the best value driveway dumpster rental Dickson TN trusts to a broad scope of Dickson County, including the 37029, 37055, and 37056 zip codes. We service the cities of Nashville, Murfreesboro, dumpster rental Lebanon TN, Hendersonville, Gallatin, Brentwood, Thompson's Station, Spring Hill, and Franklin in Tennessee, as well as Bowling Green, Scottsville, and Franklin in Kentucky. If your project is beyond our service radius, let us know. We regularly deliver dumpsters even further out, and we can usually make special arrangements to accommodate your project requirements and your budget.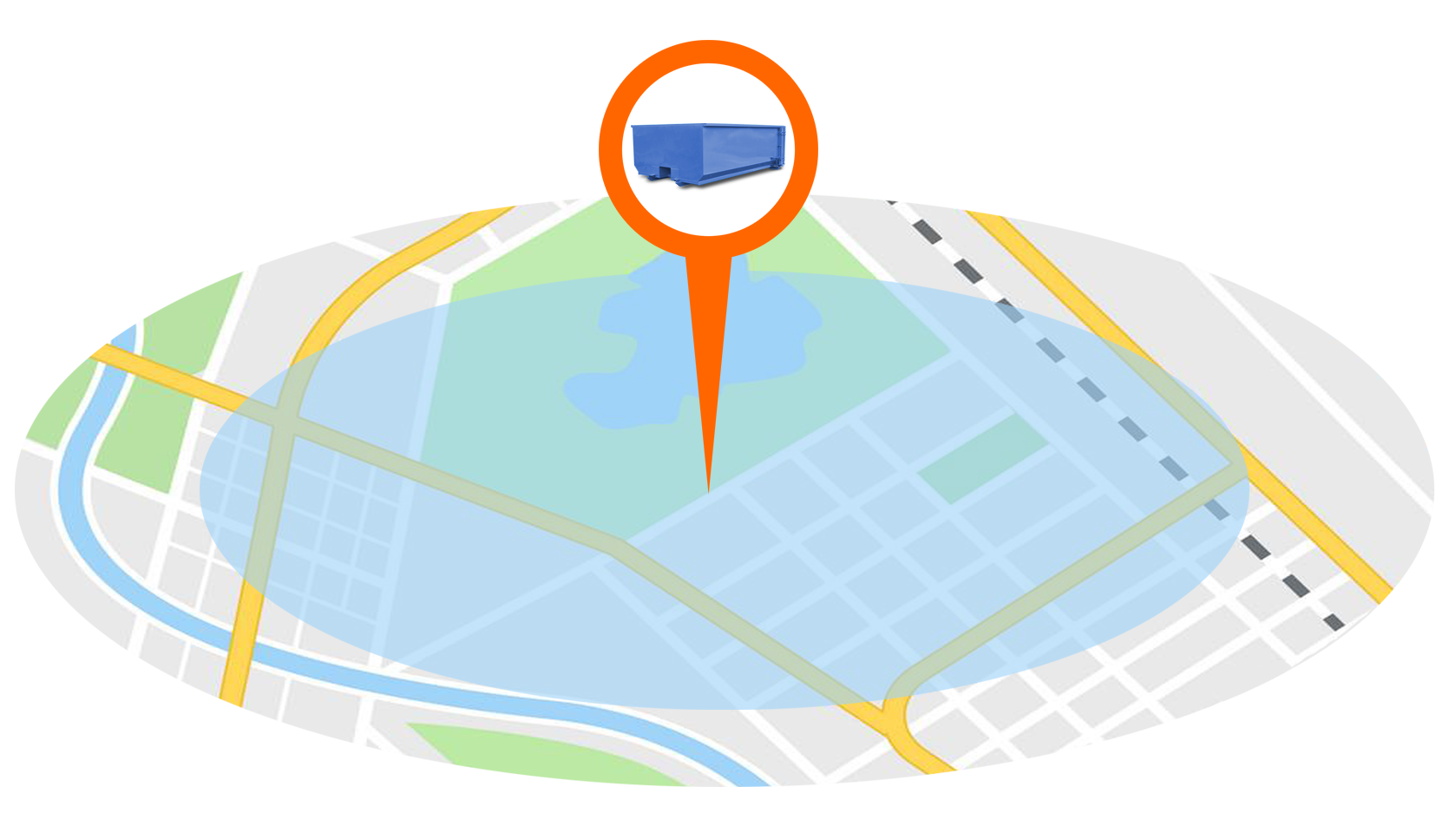 We work very closely with local businesses, organizations, and the Dickson County School District to provide reliable Dickson roll off dumpster rental options to help keep our communities free of waste and safe, enjoyable places to live and visit. We're ready to support your project with a driveway dumpster rental Dickson TN can depend on to get the waste removal job done right the first time. Whether you're planning a major home cleanout or an ongoing renovation, our high-quality bins will make the cleanup part of the project fast, convenient, and efficient. Contact our team to get the best deals on renting a dumpster in Dickson TN or book a dumpster online now!
Service Area
FAQs About Booking the Best Dumpster Dickson TN Can Provide
Our team is eager to answer any questions about renting the best dumpster Dickson TN has to offer and making the process as easy as possible. We have included some of the frequently asked questions from new customers below. Give us a call if you have additional inquiries about our bin options, the rental process, or prices for dependable dumpster rentals Dickson TN can count on.
Q.
How much is a roll off dumpster in Dickson?
A.
The cost estimate for a dumpster Dickson TN residents and businesses can depend on varies based on the tonnage and rental time period. You can rent a 15-yard dumpster starting at $349 for 1 day, $375 for 3 days, and $399 for 7 days. We accept extra weight at $110 per ton and a rental time extension at $25 per additional day. Our estimates for a roll off container rental Dickson TN trusts include delivery and pick-up within our service radius, but exclude sales tax.
Q.
Do I need to be present when the dumpster is delivered?
A.
No. You only need to make the dumpster placement area accessible and provide clear directions when booking a dumpster rental Dickson, TN trusts online. Be sure to remove any potential obstructions from your property or work site. We'll handle the rest from there! Our delivery crew will deliver your bin on time and carefully place it at your chosen placement site for easy loading.
Q.
What types of waste do you allow?
A.
Our customers use our durable bins to throw out different types of waste, including construction waste, roofing and demolition debris, old furniture, yard waste, household junk, and general garbage. We do not accept hazardous waste, including gasoline, motor oils, or other flammable liquids. Choose Dumpsters On Demand, the affordable dumpster rental of Dickson, TN, for all your residential or commercial waste disposal needs!
The Best Places to Explore and Visit in Dickson, Tennessee
As a fellow member of the Dickson community, we understand that you're looking for more than just a dumpster rental; you want to explore all the hidden gems and experiences that Dickson has to offer. So, let's dive into some of the best things to do, parks to visit, the town's rich history, notable landmarks, top-notch restaurants, and the schools or churches that make Dickson the wonderful place it is.

Dickson offers a variety of activities to keep you entertained. Enjoy live music and entertainment at the Renaissance Center, a hub for cultural events and performances. Explore the Clement Railroad Hotel Museum, which showcases the history of the railroad and its impact on the town. For outdoor enthusiasts, head to Montgomery Bell State Park and immerse yourself in nature with hiking trails, fishing spots, and picnic areas.

Our town is blessed with beautiful parks and natural areas that allow you to enjoy the great outdoors. Visit the scenic Turnbull Creek Recreation Area, offering opportunities for camping, boating, and wildlife observation. Take a leisurely stroll through Buckner Park, a local favorite with walking trails, playgrounds, and sports facilities.


Dickson, Tennessee's History and Notable Landmarks
Dickson has a rich history that is worth exploring. Step back in time at the Renaissance Center's Frontier Life exhibit, where you can experience a slice of pioneer life in the region. Discover the heritage of the area at the Lyles Schoolhouse Museum, a restored one-room schoolhouse that provides insights into the educational history of Dickson County.

Our town is also home to notable landmarks that reflect our unique character. The historic Dickson County Courthouse, located in the heart of downtown, is an iconic symbol of our community and a gathering place for events and festivals. The Promise Land, a historic African American community, holds cultural significance and reminds us of our diverse heritage.


The Food and Expanding Community of Dickson, Tennessee
Dickson boasts a vibrant dining scene with a range of culinary options to satisfy every palate. From delicious southern comfort food at Cindy's Cafe to mouthwatering barbecue at Zander's Woodfired Pizza & Grill, you'll find local eateries that serve up flavorsome dishes. Don't miss the chance to indulge in sweet treats at The Cake Lady Bakery or grab a cup of coffee at the cozy Coffee County Roasting Company.

Education and faith are integral to our community. Dickson takes pride in its schools, such as Dickson County High School and William James Middle School, where students receive a quality education. The town also hosts a variety of churches that foster spiritual growth and community engagement, including First United Methodist Church and Walnut Street Church of Christ.

At Dumpsters On Demand, we are proud to be part of the Dickson community and assist you with all of your waste management needs. We understand the unique needs of our town and strive to provide personalized service to our fellow neighbors. We hope this guide helps you discover the countless attractions, rich history, delectable cuisine, and welcoming community spirit that make Dickson an exceptional place to live, work, and explore!